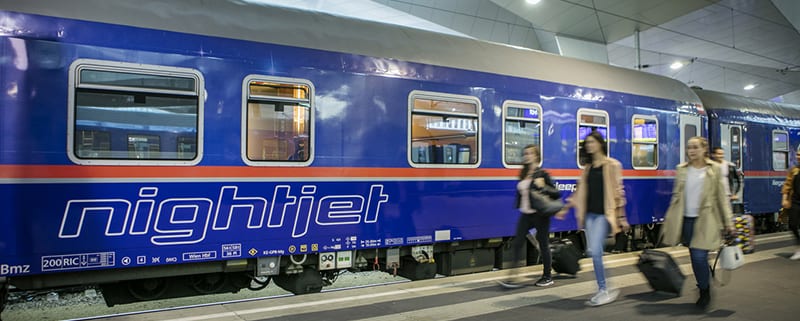 Enjoy 2 additional days of holiday by travelling by night train!
If you do, you will be faced with the agony of choice: alpine flair in Tyrol or metropolitan life in Vienna?
600 snow-covered peaks at dizzying heights of more than 3,000 metres: the Tyrolean mountains are truly magnificent. But hot spiced wine tastes just as good at the Tyrolean Perchtenlauf as it does in front of the elegant backdrop of Schönbrunn Palace. Because Vienna, the metropolis on the Danube, also has its very own special magic during the cold months of the year. Both the Tyrolean mountains and wintery Vienna can be reached from Germany in just one cosy night, travelling on the Nightjet operated by the Austrian Federal Railway ÖBB; tickets are available for as little as € 29.00. And the best thing about it: by travelling on the night train, you can spend both the arrival and the departure day as you wish, effectively giving you 2 additional days of holiday!
Fortunately, the fascinating alpine panorama of the Tyrolean mountains is closer to our polders and canals than you might think. The Nightjets will bring you from Düsseldorf and Cologne, for example, to Tyrol, the heart of the Austrian mountain world – comfortably overnight, and without having to change trains.
You can exert yourself while skiing, snowboarding, snowshoe hiking or cross-country skiing with spectacular views – but please not during your trip. Relax and enjoy the comfortable Nightjet which takes you directly to Tyrol (with stops in Innsbruck, Jenbach, Wörgl, and Kufstein).
By the way, the best way to get to Düsseldorf and Cologne is with a discounted ticket for a feeder or connecting train to or from the Nightjet.* Or you can simply drive your own car or motorcycle to Düsseldorf and easily take it along with you on the Nightjet – the low-cost Sparschiene tickets are also available for vehicle transport for as little as € 29.00.
Tyrol has a lot to offer – not only for outdoor enthusiasts: the mighty mountains also offer a wonderful backdrop while relaxing in the spa or enjoying culinary delights in the alpine mountains or at a regional "Haubenlokal". For even more inspiration for your holidays in Tyrol, click here: https://www.visittirol.nl/
For all those who do not follow the call of the mountains, but would rather experience Vienna's winter magic: the ÖBB Nightjets can also take you easily and cheaply from Germany to the Austrian capital. Instead of mountain peaks, you can explore the diverse artistic and cultural offerings, taste all the delicacies of the Christmas markets or defy the hustle and bustle ahead of Christmas with the cosiness offered by Viennese coffee houses.
Whether you prefer the Tyrolean mountain world or a city trip to wintry Vienna – the ÖBB Nightjets will save you from traffic jams and stress during your journey. You can choose among three comfort categories (in sleeping and couchette car incl. breakfast). There are separate women's compartments for ladies, while families and small groups can travel at a particularly low price in family or private compartments. But above all, you travel stress-free and relaxed: experience Austria's famous conviviality already on your way there.
More information and ticket booking on nightjet.com/netherlands (in English)
* Arnhem / Utrecht / Amsterdam / Den Haag / Rotterdam – Düsseldorf / Cologne or Amsterdam – Hanover (available only on nightjet.com)
https://www.oostenrijkmagazine.nl/cmsoostenrijk/wp-content/uploads/2018/10/Nightjet.jpg
420
800
Oostenrijk Magazine
https://www.oostenrijkmagazine.nl/cmsoostenrijk/wp-content/uploads/2015/10/logo_oostenrijk-300x65.png
Oostenrijk Magazine
2018-10-08 07:26:21
2018-10-08 07:26:21
Met de Nightjet naar Oostenrijk